Donning these Nitrile Exam Gloves is like wearing another skin on your hand as these gloves provide a premium fit and feel.
These Paloma gloves are designed while using premium material to increase these glove's durability and offer you a premium fit.
It feels like you are wearing a second skin, and because of the material used, the user can perform any task without risking the tactical sensitivity of the gloves.
These gloves are powder-free and entirely free from natural rubber or latex which, is why using these gloves is completely safe for anyone suffering from allergies.
The material used in these Gloveon Paloma nitrile gloves is tested and passed in our labs.
For the extra grip, the fingertips are textured.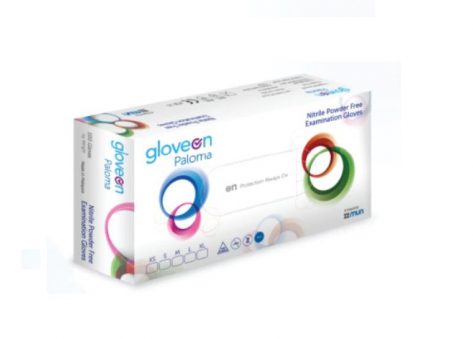 Let us know if you want it to be delivered to The USA and Canada
Specification of Gloveon Paloma Nitrile Gloves.
● It has textured Fingertips.
● It is tested in the lab against different chemicals and chemotherapy drugs.
● It is powder-free.
● Resist different chemicals.
● Provides a great fit.
Additional Information
Product Name Gloveon Paloma
Gloves per box. 100 gloves per box and 10 boxes per case.
Sizes available. Small-Extra Large.
Colour available Blue and white.