This is one of the best personal protective equipment kit any platform can ever offer you as this kit contains every item one can need to use in this pandemic.
This kit includes;
1. 3ply common mask: A common disposable 3 ply face mask which you can use throughout the day and then dispose of to keep yourself secure from any viruses.
2. KN95 mask: KN95 mask gives you complete filtration of the air you inhale and protect you from airborne viruses.
3. N95 mask: N95 mask is one of the best masks to use in this pandemic, and it is an approved product by NIOSH, which means it will provide 95% filtration efficiency.
4. Level 2 gowns: It is one of the best reusable PPE kit one can ever get; this PPE suit was designed for front-line workers. It will protect the user from any infection which may infect you from any other person or.
5. Face shields: Face shields work as a mask it covers the whole of your face and makes it completely safe for the user to travel.
6. Medical Goggles: Medical goggles are also included in this kit; these goggles save your eyes from any harmful liquid or splash caused by chemicals. Front-line workers mostly wear these goggles.
7. Non-Touch Infrared Thermometer: Infrared Thermometer is one of the most important things for front health workers. Using this can let them
know the patient's body temperature without even touching the patient.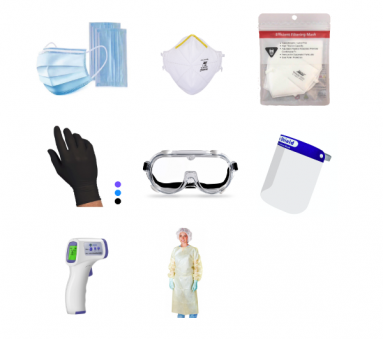 Do send us a message if you want it to be delivered in The USA or CANADA.
Specifications of Personal Protective Equipment kit
● 2 x Boxes of 3-Ply Masks (100 Masks
● 2 x Boxes of 3-Ply Masks (100 Masks
● 1 x Box of N95 Masks (20 Masks)
● 1 x 10 Pack of Level 2 Gowns
● 10 x Face Shields
● 2 x Pairs of Medical Goggles
● 1 x Non-Touch Infrared Thermometer