Aami level 1 Gown is the perfect example of personal protective equipment used by frontline health care workers.
These gowns are used to protect the frontline workers to save themselves from any spreading viral infection. The wearer can also use this isolation gown to stop the microorganisms from transmitting it to the vulnerable patient ward.
This gown is made of 100% non-woven material that saves the user from any type of fluids to reach the user's skin which may cause any type of illness.
These level 1 isolation gowns are designed with a breathable material it is strong and has an absorption ability, but it is for single use only. It should be disposed of as soon as the task is completed for the user's safety. To make sure it does not fall, it has a waistband.
What is a level 1 Gown?
Quality of the gowns is divided into different levels. Level 1 means minimal risk; these types of gowns can be used for everyday situations and standard isolations. And level 1 type of gown can be used for multiple purposes.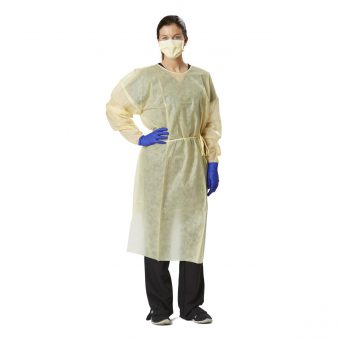 Specification of AAMI Level 1 isolation gowns
Non-woven.

Protection from fluids.

Non-toxic.

Breathable gown.

Dual ties.
Additional Information.
| | |
| --- | --- |
| Product Name | AAMI Level 1 Gown. |
| Gowns per box. | 10 pcs per box and 10 boxes per ctn |
| Sizes available. | Small-Extra Large. |
| Colour available | Green, Blue, Pink. |