Cranberry Evolve 300 gloves are one of the recent addition to the list of gloves made by Cranberry.
Cranberry gloves are one of the softest and comfortable gloves being used in the field. These gloves are designed with Cranberry's Evo soft formula, which gives them this silk-like feel and makes them the scratchiest gloves every without losing the durability of the glove or its tactical sensitivity.
These are powder-free non-latex gloves which means it is entirely safe for any user suffering from allergies.
The material used in these Cranberry Nitrile gloves is quite durable, making them perfect to use in any field of health care, be it for operations or dental care.
These gloves provide extra grip as the fingertips are textured with beautiful royal blue color.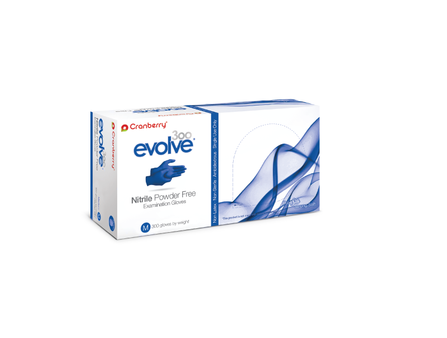 Let us know if you want it to be delivered to The USA and Canada
Specification of Cranberry Evolve 300
● It is completely safe for users with allergies.
● It is for single use only.
● It is quite durable.
● It offers Textured Royal blue fingertips.
● It is Latex-free.
Additional Information
Product Name Evolve 300
Gloves per box. 300 by weight.
Sizes available. Extra Small-Extra Large.
Color available Blue.