Synguard Nitrile exam gloves are incredibly soft, flexible, and comfortable gloves to be worn. These gloves are made with a Nitrile formula that makes these gloves like latex and allows the user to move its hand in full motion without feeling any kind of tightness or stress on the user's skin.
These gloves are entirely powder-free, which means it does not contain any natural rubber or latex, Which may cause any harm to the user suffering from allergies.
These nitrile examination gloves are made with a puncture-resistant and durable material, which make these gloves completely safe to use for multiple purposes, and its rubber-like texture provides the user with a full grip to handle anything, and that is why these gloves can be used for Food handling, maintenance work or for medical purposes.
These Gloves are NIOSH approved and are completely safe to be used by anyone.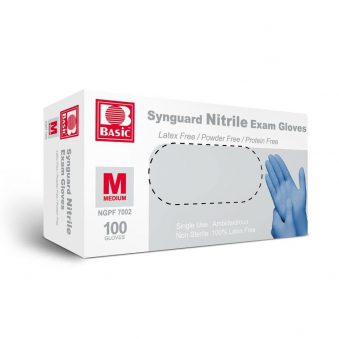 Let us know if you want it to be delivered to The USA and Canada
Specification of Intco Synguard Nitrile Exam Gloves
● It is Puncture resistant.
● Disposable/One-time use gloves.
● It Protects against chemicals.
● It is completely safe for users with allergies.
● It offers Textured fingertips.
● It is completely Latex-free.
Additional Information
Product Name Intco Synguard Nitrile Exam Gloves.
Gloves per box. 100pcs per box and 10 boxes per ctn.
Sizes available. Extra Small-Extra Large.
Colour available Blue, White, Violet.