NIOSH N95 respirator mask is a mask used for personal protection from airborne viruses and any contamination from any liquid.
An N95 respirator mask is approved by NIOSH, which means it will filter out 95% of infected particles which you may inhale while breathing.
This mask is designed in a way to make you feel comfortable while wearing it throughout the day. This mask offers you enough space to breathe effectively that you don't feel irritated as a normal mask keeps pushing your nose's point.
To make it fit perfectly on your nose, this mask comes with a padded aluminum nose clasp so that you can wear it without having any kind of problem.
Specification of N95 respirator mask
● Can be folded.
● Latex-free.
● Size fits all adults.
● Disposable.
● Filters effectively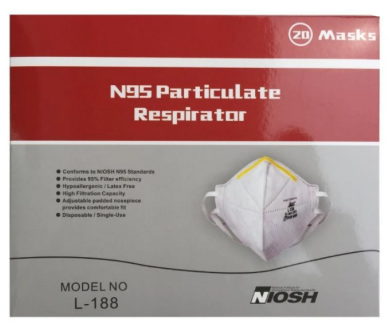 Additional Information
Model: L-188.
Product Name: N95 respirator mask.
Color: White.