Ethyl Alcohol Hand Sanitizer is perfect for those who want to keep their staff and families safe from any airborne viral viruses. This sanitizer will help you keep your hand safe from any germs.
This sterivera sanitizer has 70% alcohol added to it to make sure the results are guaranteed without damaging the user's skin. No water or towel is needed to keep your hand clean you just need to use a little bit of gel and rub it on your hands to clean them.
This Ethanol hand sanitizer is perfect for those who need to clean their hands again and again because of their job. The unique ingredients used in the sanitizer will make sure your skin is not harmed because of it. 
This bottle of sanitizer is approved by different labs that include Health Canada. And Bottled in NHP facility, which is also certified.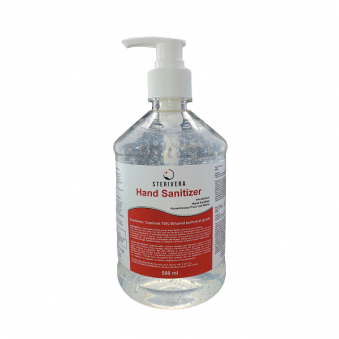 Specification of Sterivera Alcohol Hand Sanitizer
Alcohol content 70%.

Health Canada Approved.

Highly Effective.

Bottled in NHP Certified facility.
Additional information.
| | |
| --- | --- |
| Product Name. | Sterivera Ethyl Hand sanitizer. |
| Approved by. | Health Canada. |
| Appearance. | Clear liquid Gel. |