Many people around us are using hand sanitizers in different shapes; some are using bottles, some are using sanitizing wipes to clean their hands, but none of them is as hygienic as this dispenser.
This Automatic Hand Sanitizer Dispenser is one of the best things to be used in your office or at your home as using it will keep your hands clean and that too without touching it that makes sure it is completely hygienic for other's to utilize.
To sanitize your hands, you don't need to do anything else besides placing your hand beneath the dispenser, and a specific amount of solution will drip on your hand so that you can keep your hands clean.
This Dispenser offers quick sanitization that too under 3 seconds; using this dispenser will eliminate your need to rub soap on your hands for 3 minutes in order to kill all the germs on your hands after every few minutes.
This Touchless Hand Sanitizer Dispenser can be placed on a stand, or you can also mount it on a wall to keep your walls safe from destruction wall paste solution is also provided in its accessories so that you can do it yourself.
This dispenser works on 4 C batteries which are not included in the package and has a large capacity to store 1000ml liquid in its refillable container.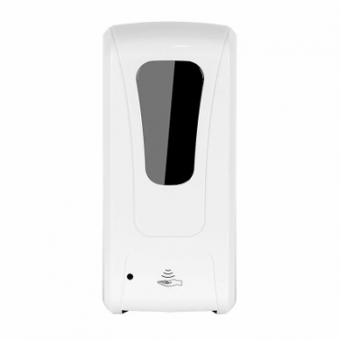 Specification of V2 Automatic Touchless Hand Sanitizer Dispenser | Wall Mounted Hand Sanitizer Dispenser | 1000ML Capacity
Touchless sanitizer.

Refillable Tank.

Mountable.

User-friendly.

Stores 1000ml.
Additional Information.
| | |
| --- | --- |
| Product Name. | V2 Automatic Hand Sanitizer Dispenser. |
| Product Dimensions. | 13W x 11D x 27H (cm). |
| Color | White. |