Hand sanitizer dispenser stand is an essential item for you if you are planning to place the sanitizer bottle in your office. Using this stand will make sure it is easy for everyone to use as this stand has a tray specially made for the sanitizer bottle.
This stand is portable and is easy to move; it is recommended to place this stand in the middle or in the hallway of your office, supermarkets, or hospitals as most people cross that point. Placing this stand with the sanitizer bottle will offer peace of mind to your staff as everyone can use it and make themselves sanitized.
This stand has a sturdy base, but it is very light; it is 56" tall and weighs 25 lbs, so it is easy to move around according to the preferences.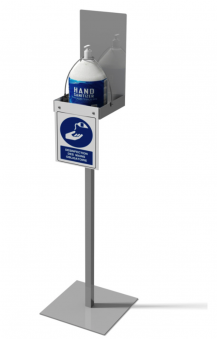 This sanitizer dispenser stand is easy to install, and it can be ready to use in no time.
Specification of Multi Function Hand Sanitizer Dispenser Stand | Commercial Hand Sanitizer Station | Hand Sanitizer Floor Stand
It can hold up to a 5-liter bottle.

It is 56" Tall.

It is powder Coated.

It has an anti-theft harness for sanitizer bottles.
Additional Information.
| | |
| --- | --- |
| Product Name. | Multi-Function dispenser stand. |
| Product weight. | 25 Lbs. |
| Color | Powder-coated. |