Intco Touchflex Nitrile Exam Gloves | Blue Nitrile Gloves | Powder Free Nitrile Gloves | FDA 510K / CHEMO
Product Description
Intco TouchFlex Nitrile exam gloves are one of the Premium Gloves provided by Intco; these
gloves are known to be very comfortable and flexible.
These Touchflex gloves are designed with this unique and new formula containing NItrile that
makes these gloves feel like latex and allows the user an excellent fit, making it easy for the
user to fulfill the task.
These Nitrile examination gloves are chemo drug tested, and these gloves are completely free from
powder which means it does not contain even a minor quantity of latex which may cause
harm to the user with allergy.
The material used to design these Touchflex gloves provides the user with an extreme level
of grip to handle anything in any situation.
Health Canada approves these Gloves.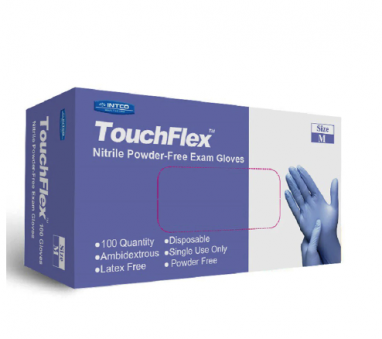 Let us know if you want it to be delivered to The USA and Canada
Specification of Intco Touchflex Nitrile Exam gloves.
● It is completely Powder-free.
● It is completely safe for users with allergies.
● It Protects against chemicals.
● It offers tactile sensitivity.
● Disposable/ Single use only.
Additional Information
Product Name Intco Touchflex gloves
Gloves per box. 100pcs per box and 10 boxes per ctn.
Sizes available. Extra Small-Extra Large.
Colour available Blue, White, Violet.